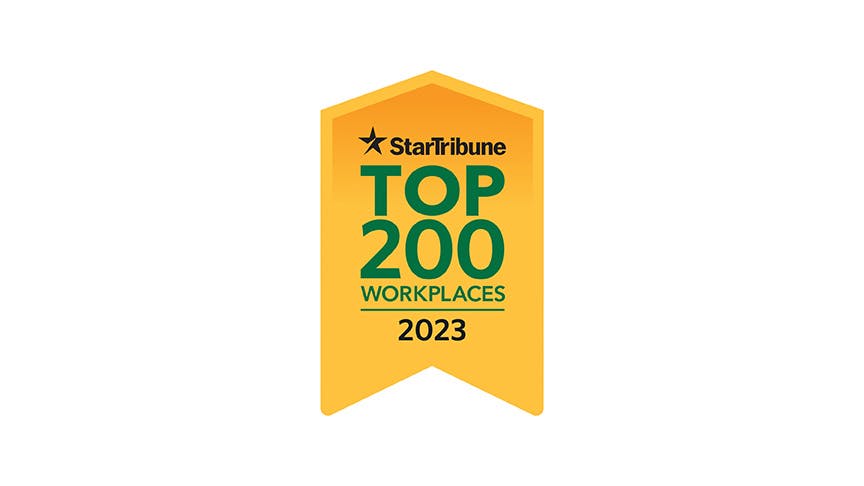 Rochester, MN, Release: June 26, 2023 - Pace International (Pace) has been named one of the Top 200 Workplaces in Minnesota by the Star Tribune. A complete list of those selected is available at StarTribune.com/topworkplaces2023.
Produced by the same team that compiles the 32-year-old Star Tribune 100 report of the best-performing public companies in Minnesota, Top Workplaces recognizes the most progressive companies in Minnesota based on employee opinions measuring engagement, organizational health, and satisfaction. The analysis included responses from 124,719 employees at Minnesota public, private and nonprofit organizations.
The Star Tribune Top 200 Workplaces rankings are based on survey information collected by Energage, an independent company specializing in employee engagement and retention.
Pace International was ranked #83 on the small company list.
"I am incredibly grateful for this recognition as a Top 200 Workplace, but it's the Pace employees who truly deserve the spotlight", said Tim Deutsch, EVP of Sales at Pace. "Their dedication, teamwork, and innovative spirit are the driving forces behind our success, and I am honored to work alongside such talented individuals every day."
Star Tribune CEO and Publisher Steve Grove said, "The companies in the Star Tribune Top 200 Workplaces deserve high praise for creating the very best work environments in Minnesota. My congratulations to each of these exceptional companies."
The winners were based entirely on employee feedback captured with the Workplace Survey which asked about key areas of workplace culture at Pace International, including practices to actively recruit and/or retain employees; inclusion of varying ethnic and cultural backgrounds; formal feedback programs; thorough breakdown of benefits package; employee performance reviews; career training and development; work-life balance; organizational initiatives to bring employees together and promote fun; managerial involvement; and more. To qualify for the Star Tribune Top Workplaces, a company must have more than 50 employees in Minnesota. Over 5,000 companies were invited to participate.
About Pace International
Pace International is a nationwide distributor managing a wide range of products, installations, and value adds for some of the most recognized companies in the world. Headquartered in Rochester, MN, Pace, along with its members, is committed to connecting content to devices by offering quality products, leading brands, and exceptional service to all its customers. For more information visit www.paceintl.com.
Contact info:
Name: Tim Deutsch
Organization: Pace International
Address: 3582 Technology Dr. NW, Rochester, MN 55901
Phone: 1-800-444-7223