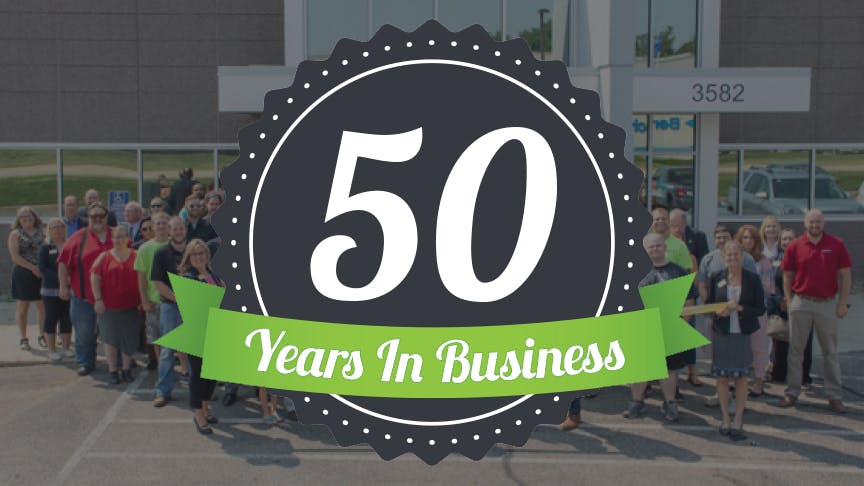 Rochester, MN, Release: February 22, 2022. For Immediate Release
In 1972, after acquiring The Lew Bonn Company, one of the first companies in the country to distribute electronic products (and at the time his employer), Jim Deutsch established what is now known as Pace International in his hometown of Rochester, Minnesota. Fifty years later, Pace is successfully operating three business segments and quickly growing.
"I think my grandfather, Jim Deutsch, would be proud of our culture and what the employees at Pace have built over the past 50 years," said Tim Deutsch, EVP of Sales. "I think most would agree that Pace is an enjoyable place to work and we look forward to doing what is best for our customers and being a good partner. The employees at Pace are truly a special group and make it fun to do what we do. There is certainly plenty to celebrate."
From the early days of the organization, Pace began as an electronics distributor focused primarily on providing small town TV retailers and electronics companies with the inventory needed to fill their stores. Today, the organization maintains that unity with over 100 company members and thousands of relationships with operators, integrators, commercial, retail, and RV industry customers world-wide.
"What an honor it is for us to have served our customers for 50 years," said Deutsch. "The telecommunications industry continues to change at a rapid pace, and with 5G on the horizon, each day is more exciting than the last. Our Team has put us in position to continue to grow and meet the current and future needs of our customers. It is a very exciting time for us and our industry!"
Pace has always been involved in connecting people to their devices. That is proven with their recent launch of TravlFi. Developed by Pace, the product and service combination connects the RV and off-grid travel market to the internet through a hotspot that spans multiple carriers with one device and one plan.
The Pace team consists of experienced business leaders, in-house marketing, software developers, IT experts, and a large in-bound customer and technical support team. In addition, Pace's on-site warehouse is operated by a resilient management team backed with warehouse support personnel.
About Pace International
Pace International, celebrating its 50th anniversary in 2022, is a nationwide distributor managing a wide range of products, installations, and value adds for some of the most-recognized companies in the world. Headquartered in Rochester, MN, Pace, together with its members, is committed to connecting content to devices by offering quality products, leading brands, and exceptional service to all customers. For more information visit, www.paceintl.com.
Contact info:
Name: Tim Deutsch
Organization: Pace International
Address: 3582 Technology Dr. NW, Rochester, MN 55901
Phone: 1-800-444-7223