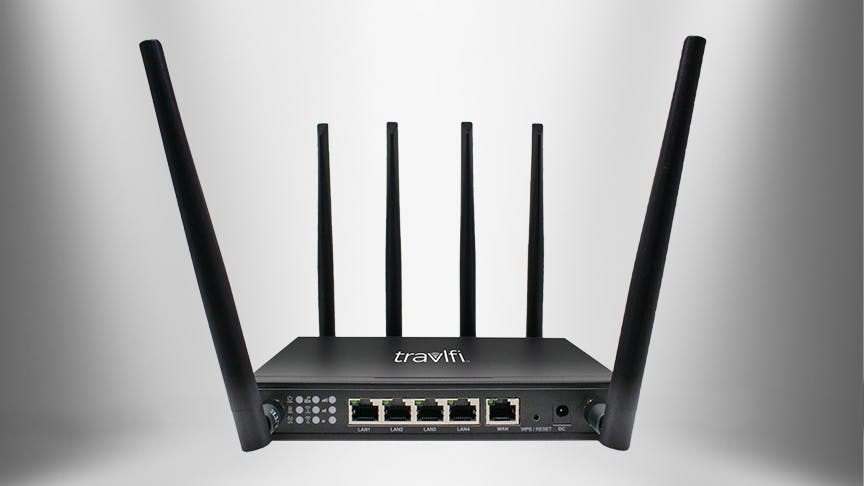 The JourneyXTR 4G/LTE Router and Wi-Fi Extender is the latest connectivity product to launch under the TravlFi™ brand, owned and operated by Pace International, located in Rochester, MN. The product helps RV travelers solve next-level connectivity needs by offering a built-in multi-carrier 4G/LTE hotspot with award-winning data plans or by connecting to a nearby public or private Wi-Fi network, all in a single device.
 This powerful router gives customers ultimate flexibility when they want to connect to the internet from the road. Like its award-winning predecessor, the TravlFi Journey1, the JourneyXTR automatically finds and connects to the strongest cellular data provider in the area, without the need to add or use a SIM card. RVers can connect to the internet within minutes by setting up a TravlFi data plan either online or by calling Pace International. If they'd prefer to use a nearby public or private Wi-Fi network instead, the router can be switched over to act as a Wi-Fi extender to broadcast a Wi-Fi signal to their devices inside the RV. Additionally, the product has a SIM card slot that allows customers to use their own cellular provider if they choose. Optional external cellular and Wi-Fi antennas can be added for a stronger signal from outside of the RV as well. The product also features WAN (Wide Area Network) and LAN (Local Area Network) ports, which give the customer the ability to connect to devices either wirelessly, or with ethernet cables.
 "This product really gives our customers the ability to get connected to the internet on their own terms. We've worked hard to simplify the process for them," said Sam Schell, Senior Vice President of Business Development at Pace International.
Today's RV travelers are often on the road for long periods of time, which means they're working, streaming entertainment, gaming, or video conferencing. Often, travelers are battling data caps and throttling, or based on their location, experiencing connection issues. The JourneyXTR can help solve these issues with multiple ways to get online.
All TravlFi products also include remote support assistance on every device using their service. Pace International is well known for supporting RV customers with a Rochester, Minnesota-based call center that is open 7 days a week to help with product questions or tech support. TravlFi subscribers have access to this support year-round at no cost.  For more information, visit www.Paceintl.com/mobile/travlfi, or call 1-800-444-PACE.
Company Background 
Pace International, celebrating its 50th anniversary in 2022, is a nationwide distributor managing a wide range of products, installations, and value adds for some of the most-recognized companies in the world. Headquartered in Rochester, MN, Pace, together with its members, is committed to connecting content to devices by offering quality products, leading brands, and exceptional service to all customers. For more information visit, www.paceintl.com.
Contact info:
Name: Beth Blanchard
Organization: Pace International
Address: 3582 Technology Dr. NW, Rochester, MN 55901
Phone: 1-800-444-7223