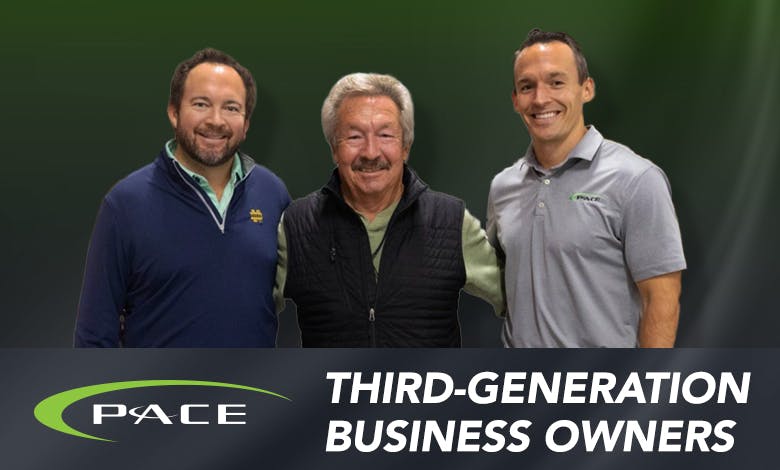 Rochester, MN, Release: Nov 09, 2023 - Pace International (Pace), a leading nationwide distribution company, is excited to announce a significant milestone in its journey. Pat Deutsch, CEO of Pace, announced that his sons, Tim and Eric Deutsch, are joining him as third-generation company shareholders.
In the words of Pat Deutsch, Pace 's Chief Executive Officer:
"I am thrilled Eric and Tim decided to make Pace their career choice and to carry on the legacy of their grandfather. Pace's future is full of promise but as in the past, we will need to change and adapt to the ever-evolving technologies of today and tomorrow."
This transition represents not just a change in ownership, but a commitment to the continued growth and success of Pace. Tim and Eric bring a wealth of diverse experiences, skills, and ideas that will drive innovation and ensure Pace remains at the forefront of the technology sector. Eric Deutsch, who has dedicated 14 years to Pace, is an alumnus of Notre Dame, where he pursued his studies in accounting. Tim Deutsch, with 11 years of service at Pace, graduated from the University of Minnesota, where he specialized in finance and accounting.
Tim Deutsch, Executive Vice President of Sales, shared his excitement about the future that lies ahead, underlining their dedication to upholding the legacy built by their grandfather and founder and further fortified by their father.
"We are honored to be entrusted with this responsibility and look forward to building upon the strong foundation established by our founder and grandfather, Jim Deutsch and further strengthened by our father, Pat Deutsch. As we take on this ownership stake, our commitment to our employees, customers, and the community remains unwavering."
Eric Deutsch, the Executive Vice President of Finance, shared his thoughts on this exciting development, highlighting the significance of this milestone and expressing his gratitude to the dedicated Pace employees who have made it possible.
"Joining our family's business as third-generation shareholders is an extraordinary milestone for us. It's not every day that family-owned businesses make it to the third generation, and we're truly excited about this journey. Our gratitude extends to our dedicated employees, who made this achievement possible, as well as our supportive community. With their continued support, we are confident that our future holds even greater accomplishments."
This exciting transition marks the beginning of a new chapter in Pace's storied history. The company looks forward to a future filled with continued innovation, growth, and success as the next generation joins in ownership.
About Pace International
In 1972, after acquiring The Lew Bonn Company, one of the first companies in the country to distribute electronic products, Jim Deutsch established what is now known as Pace International in Rochester, Minnesota. Over fifty years later, Pace is successfully operating three business segments and quickly growing. As we celebrate this transition, we honor the founder, Jim Deutsch, and the incredible journey he began.
From the early days of the organization, Pace began as an electronics distributor focused primarily on providing small-town TV retailers and electronics companies with the inventory needed to fill their stores. Today, the organization maintains that unity with over 100 company members and thousands of relationships with operators, integrators, commercial, retail, and RV industry customers worldwide. Headquartered in Rochester, MN, Pace, along with its members, is committed to connecting content to devices by offering quality products, leading brands, and exceptional service to all its customers. For more information visit www.paceintl.com.

Contact Information:
Name: Eric & Tim Deutsch
Organization: Pace International
Address: 3582 Technology Dr. NW, Rochester, MN 55901
Phone: 1-800-444-7223