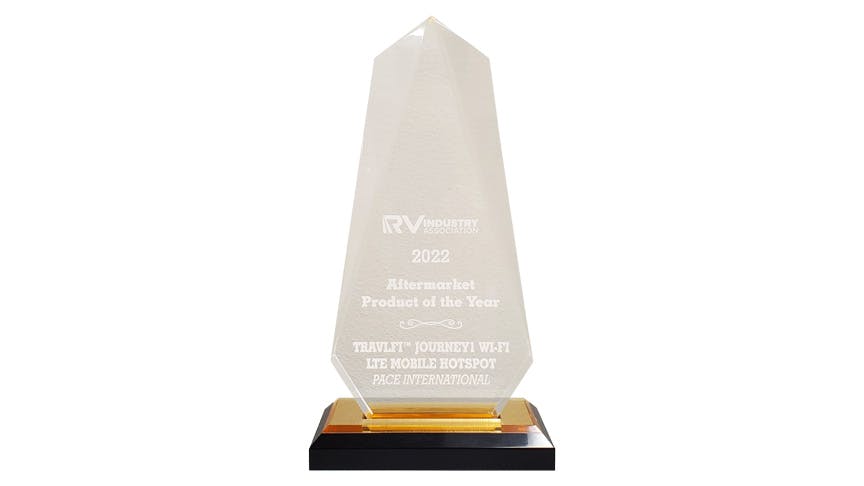 Rochester, MN, Release: August 22, 2022. For Immediate Release
Pace International's TravlFi™ Journey1 Wi-Fi Mobile Hotspot was named product of the year at the RV Industry Association's (RVIA) Aftermarket Conference in San Antonio, Texas.
The RVIA is comprised of more than 400 member companies from OEMs to aftermarket suppliers with the goal of supporting a great parts and accessory purchasing experience that will benefit supply chain members and the RV consumer. From among 40 entries from major suppliers in the RV industry, Pace International's TravlFi Journey1 device was named Product of the Year.
"It's truly an exciting time for us and we are very optimistic about where TravlFi is headed in the RV industry," said Tim Deutsch, EVP of Sales. "Our team has put years of hard work into developing TravlFi to fill a need for the RV customer, and we are ecstatic about earning the Product of the Year award. We look forward to capitalizing on this national recognition to help RVers across the country stay connected."
The TravlFi Journey1 Wi-Fi LTE Mobile Hotspot has made it easy for RVers and travelers to stay connected with mobile, pay as you go internet. One of the most appealing features of the Journey1 is that its virtual SIM technology is designed to automatically find and connect to the best possible signal among the major cell carriers. This is particularly useful considering that RVers are constantly moving around, and certain carriers are stronger than their rivals in various parts of the country.
Customers also benefit from TravlFi's flexible high-speed pay as you go data plans, ranging from two gigabytes to 800 gigabytes, which is enough data to run an entire household on in a month, let alone an RV. And if a subscriber finds that they need more, or less data, they can change their data plan without penalty.
Launched in the last quarter of 2021, the TravlFi Journey1 was also recognized as the 2022 RV Pro "Best New Product Award", as well as the RV Business "RISE Award" in the aftermarket category.
To learn more about this product and service, visit TravlFi.com
About Pace International
Pace International is a nationwide distributor with decades of experience managing a wide range of products, installations, and value adds for some of the most-recognized companies in the world. We specialize in connecting content to devices by offering quality products, leading brands, and exceptional service to all our customers. For more information visit, www.paceintl.com.
Contact info:
Name: Beth Blanchard or Samantha Hueman
Organization: Pace International
Address: 3582 Technology Dr. NW, Rochester, MN 55901