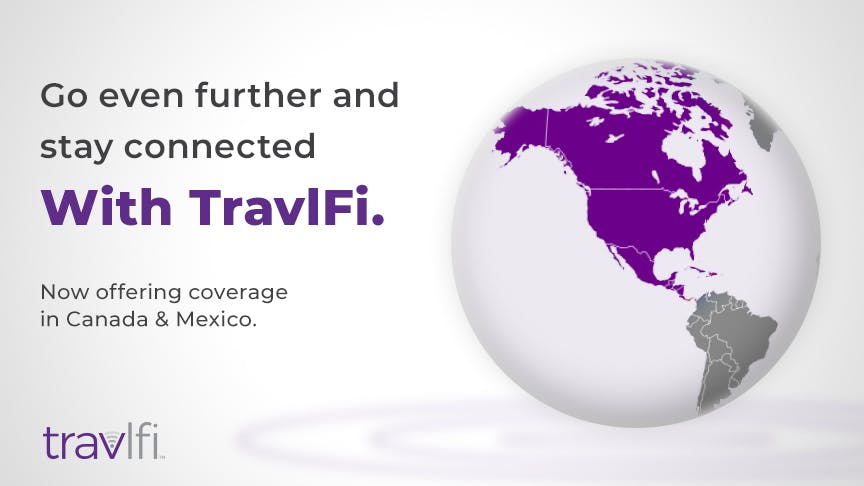 TravlFi data add-on packages are now available for Canada and Mexico
Rochester, MN, March 28, 2023, For millions of Americans planning an RV trip this year,  internet has become a "must have". The opportunity to have an internet plan that can accommodate service when crossing Canadian and Mexico borders has been hard to come by, until now.
Pace International's multi-carrier internet service, TravlFi, has recently launched a data add-on package for internet coverage in Canada and Mexico. Customers with a TravlFi device can now travel to Canada or Mexico without losing internet access, simply by adding an international data package to their existing data plan. There are four different pay as you go add-on plans available starting at only $30.
"Since our initial launch, we've had a lot of customers and dealers asking about coverage in Canada, and Mexico," said Sam Schell, Sr. Vice President of Business Development. "We're really excited to be able to provide this option as we move into the busy travel season."
TravlFi customers can monitor their international and domestic data plans through the online portal, and add data as needed. TravlFi data plans are available at competitive prices and provide multiple-carrier internet service that automatically selects a provider based on the best available connection in the area. The international add-on packages work with either TravlFi device, the TravlFi Journey1 4G LTE Wi-Fi Hotspot (700-010) or the TravlFi JourneyXTR Router and Wi-Fi Extender (700-011). More information on TravlFi data plans, devices, and availability can be found on https://www.paceintl.com/mobile/travlfi.
About Pace International:
Founded in 1972, Pace has been leading, simplifying, and supporting the telecommunications industry for over 50 years from its headquarters in Rochester, MN. Pace International is an industry-leading North American distributor, manufacturer, and value-added reseller of satellite, TV, home theater, audio, and telecommunications products.
For complete information, visit: http://www.paceintl.com
Media Contact: Beth Blanchard; Director of Marketing; beth@paceintl.com
Pace International
Attn: Media Relations
3582 Technology Drive NW
Rochester, MN 
800-444-7223