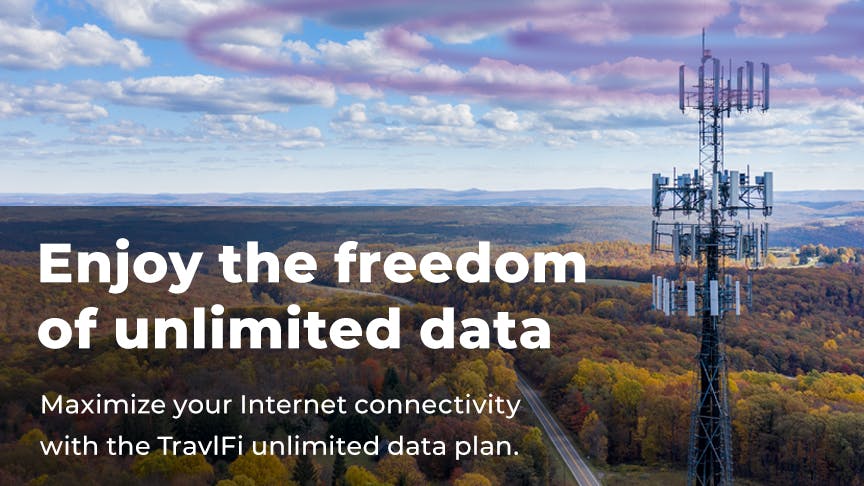 FOR IMMEDIATE RELEASE 
TravlFi Launches New Multi-Carrier Unlimited Data Plan For RVers 
RVers can add a new level of internet connectivity to their travel experience with access to all major carriers through one Unlimited Data Plan. 
Rochester, MN - June 5, 2023 - Pace International is proud to introduce the TravlFi Unlimited Data Plan, designed to offer RVers a reliable and flexible connectivity solution. This innovative plan, available on a pay-per-month basis, allows users to access all major cellular carriers seamlessly, combining convenience and freedom in one comprehensive package. 
RVers experience many connectivity limitations when it comes to park Wi-Fi and single-carrier hotspots. TravlFi ensures a strong and consistent signal by harnessing the power of multiple major carriers, delivering reliable internet connectivity wherever their customers travel. Alongside the benefits of multi-carrier access, TravlFi provides dedicated technical and sales support through an experienced U.S. based call center to seamlessly guide customers through their connectivity journey. 
"The value of unlimited data to our customers is immeasurable," expressed Sam Schell, Senior VP of Business Development at Pace. "RVers require a superior level of connectivity, enabling them to balance work, entertainment, and various internet-enabled devices. Our unlimited plan empowers them to enjoy worry-free travels without the constraints of data limitations." 
TravlFi's data plans are competitively priced, ensuring affordability without compromising quality. TravlFi devices intelligently select the best available connection by seamlessly switching between top major carriers. The TravlFi Unlimited Plan is fully compatible with two exceptional devices: the TravlFi Journey1 4G LTE Wi-Fi Hotspot (700-010) and the TravlFi JourneyXTR Router and Wi-Fi Extender (700-011). For detailed information on TravlFi's data plans, devices, and availability, please visit our website at www.TravlFi.com 
RVers can experience true freedom and connectivity on the open road with TravlFi's Unlimited Data Plan and unlock their true potential as an RVer in a world of untethered connectivity. 
About Pace International: 
Founded in 1972, Pace has been leading, simplifying, and supporting the telecommunications industry for over 50 years from its headquarters in Rochester, MN. Pace International is an industry-leading North American distributor, manufacturer, and value-added reseller of satellite, TV, home theater, audio, and telecommunications products. 
For complete information, visit: http://www.paceintl.com 
Media Contact: Beth Blanchard; Director of Marketing; beth@paceintl.com 
 Pace International  
Attn: Media Relations 
3582 Technology Drive NW  
Rochester, MN   
800-444-7223